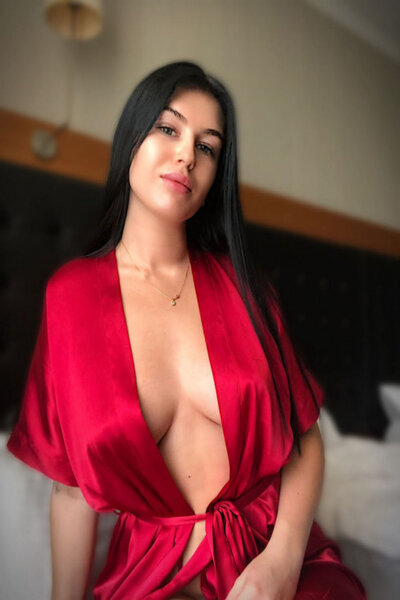 MILA
Prepare yourself for an XXX Rated ride. My name is Mila and I want you to come and play with me.!
Navigate my curves and grab a handful whilst I transport you to a land men can only dream of.
Erotic and exotic, I am a hot, Honey Russian import! I have just the right amount of SPICE! Almost too good to be true! As a lover, I am entirely uninhibited, passionate and slightly…well…wicked. I am wild, open-minded and adventures. Hot and naughty role play is a specialty of mine. And I can bring any grown man to his knees…fast.
For those simply looking for a sensuous and erotic lover, have faith that I am 100% pure sex from top to toe. I truly enjoy the intimate connection, the thrill of seduction and providing an experience that you will never, ever forget. I thoroughly enjoy my 'secret' second life here on Paris Escort, as I genuinely love to please, and it satisfies my lustful nature. However, I am very selective with whom I see, so if you do get to see me you'll find me hungry to please and tease until you beg me to stop! Fitness and health are a great passion of mine. A keen runner and cross-fit trainer, I also work part-time as a fitness model, and I am always immaculately groomed.< My trim, toned, luscious body combined with my feminine, soft-spoken ways will arouse you like never before. Proving I am addictive and the ultimate choice for the discerning gentleman. You will certainly be coming back for more! A 'top-shelf' kind of girl…think champagne and strawberries laced with whipped cream. I have a knack for putting one at ease and in my company, one cannot help but feel entirely comfortable and relaxed. I am the ultimate tigress ready to be unleashed. And I feel my body was built for decadent days and naughty nights rolling around in the sheets. A party princess, I can't help but bring a smile to your face. I also love seeing couples and would describe myself as genuinely bisexual.
Look forward to hearing from you soon,
Lots of hot, juicy kisses
Miss Mila